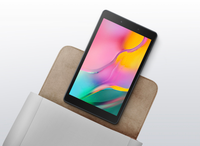 Functional Design
This tablet features a lightweight and compact design which makes it easy for you to carry it and use it with just one hand. The lightweight design makes it easy for kids to also use this tablet conveniently.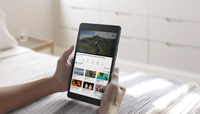 Stunning Display
This tablet features a 20.32-cm (8) screen that has a 1280 x 800 pixels resolution. Also, this tablet's aspect ratio of 16:10 ensures an immersive viewing experience, whether you're watching a YouTube video or playing games. The dual speakers deliver stunning audio effects, which complements your videos and movies.
Large Battery Backup
The Samsung Galaxy Tab A 8.0 comes with a massive 5100 mAh battery which lets you play games, stream videos, and browse the Web for hours, without having to keep charging this device.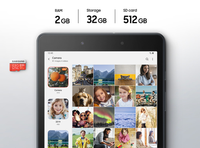 Power-packed Performance
With 32 GB of internal storage memory, you can store a large number of apps and games on this device. Also, this device's 2 GB of RAM allows you to quickly switch between watching a movie to shopping on your favorite app without any lag. It also features the Android P OS for a smooth navigation experience.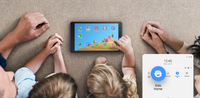 Samsung Kids Home and Parental Control Features
The Samsung Kids Home feature lets your kids play and learn in a safer environment. The Quick Panel provides access to child-friendly apps so you can let your kids access safe content on this tablet. Thanks to the Parental Control feature, you can not only monitor the usage but also keep a track of the time your kids spend while using this device.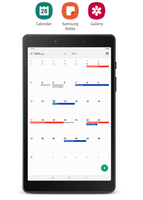 Share and Create Memories
Even if you stay miles away from your friends and family, you can still keep them updated and stay connected at all times. Through your Samsung account, you can share your photos, calendar entries, and Samsung Notes with them, ensuring distance doesn't come in between you and your loved ones.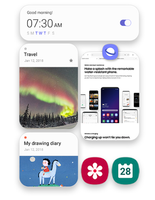 One UI
This Samsung tablet comes with One UI, which customizes and displays relevant content for you. When you tap on a particular content, it gets focussed, so you get to read the details and information without getting distracted by the other data on the screen.